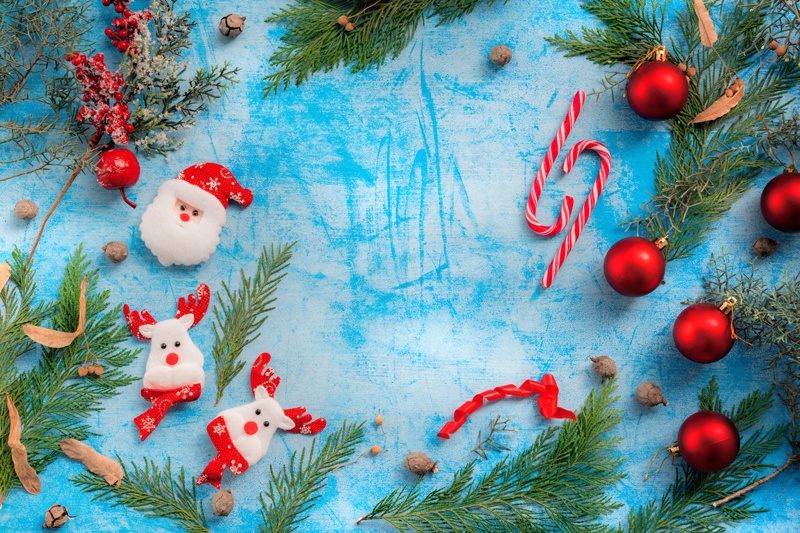 Things to Do in the South Bay This Holiday Season
It's that time of year again. The holidays are around the corner, so I've rounded up a list of awesome things to do in the South Bay (yanno, other than my fantastic massages ?). Kidding aside, here are some fun things you might want to check out. Stay tuned because I'll be adding more events to this list as I discover them.
---
Santa Photo Experience @ Del Amo
November 8 – December 24, 2019
Del Amo Fashion Center
3525 W Carson St, Torrance, CA
Eager children and their families can experience the joy and magic of the holiday season with a visit to the Santa Photo Experience at Del Amo Fashion Center.
Children can visit and be photographed with Santa from November 8 through December 24.
Del Amo Fashion Center will host a several opportunities for families to make memories with Santa. Save time, avoid the line by reserving your magical moment with Santa online. Families can plan their visit to see Santa in advance with a Santa Fast Pass on all days the shopping mall is open.
https://www.simon.com/mall/del-amo-fashion-center/stores/santa-photo-experience/stream/its-santa-photo-time-6146453
---
Holiday Pet Photo Nights
Nov 17, 2019, 6-8PM
Del Amo Fashion Center
3525 W Carson St, Torrance, CA
Bring your furry friend for photos with Santa at our Santa Set (located in our Macy's Women's Court) on either:
Sunday, November 17, from 6pm to 8pm
Sunday, December 15, from 6pm to 8pm
Don't have a buddy to call your own? Pug Nation Rescue of Los Angeles (December 15 event only) will be there with some four-legged pals in need of a home this holiday season! Photo packages will be available for purchase at the event.
*No ticket necessary for event entry*
https://www.eventbrite.com/e/holiday-pet-photo-nights-tickets-63312296784 
---
The Holidays with Essential Oil Make & Take Workshop
November 18, 2019, 6 – 8PM PST
South Bay Brain Center
25690 Crenshaw Blvd Ste 201
Torrance, CA 90505
Celebrate the Season – Come make scented bath salts, room sprays, and roller balls gifts people love and use to relax and rejuvenate this holiday season!!!! Learn about the emotional therapeutic benefits of doterra and how Essential Oils can help support your (and your family's) emotions this holiday season in a healthy, nontoxic manner! A wide selection of different scents to choose from – It's a great time to gift DoTerra and these will be great for stocking stuffers and teacher gifts!
Make as many as you would like, as long as supplies last. $5/roller bottle.
Bring a friend and your first roller is FREE. These have been such fun classes, don't miss out on making great gifts! Please RSVP, space is limited.
As a bonus, you will also be given an opportunity to ask questions about the business opportunity and how this company can also help you financially.
https://www.eventbrite.com/e/the-holidays-with-essential-oil-make-take-workshop-tickets-74353147265
---
Pre-Holiday Game Night with Cider, Mead, Board Games, and Food
November 22, 2019, 6PM-10PM
SoCal Vibes Co. – Brewery, Tasting Room & Kitchen
17812 S Main St · Gardena, CA
Get in the mood for the Holidays — join us for a pre-Holiday Game Night at Southern California Vibes Co., a unique South Bay tasting room with cider and mead on tap. This is one of the only cideries in Southern California! Last year we went to their sister location, Honest Abe, next door. This is a larger facility and they also prepare and serve food. Everyone had a great time last year, so we're doing it again this year to usher in the Holidays.
Cider is sweet, yet tart, with a complexity that changes and improves as it ages, much like wine. Mead, or "honey wine," is an alcoholic beverage made by fermenting honey.
See their cider and mead offerings at http://www.honestabecider.com/
The food menu is below.
They have some board games there, but feel free to bring your own favorite board game. I'm bringing Rummikub. If you are bringing a game, let us know which one in a comment below.
The beverages are served in 4 to 5-ounce flights that cost $2 to $3 per glass or bottles between $13 to $19. Their cider ranges from 7 to 8.5 percent alcohol by volume.
Here's an article written about them when they opened:
https://www.dailybreeze.com/2016/08/09/south-bays-only-cidery-hidden-in-carson-industrial-park/
https://www.meetup.com/the-south-bay-walking-hiking-group/events/264228599/
---
Sandpipers 27th Annual Holiday Home Tour
Fri, Dec 6, 10:00 AM – Sun, Dec 8, 1:30 PM
Sandpipers Holiday Market
920 Highland Ave
Manhattan Beach, CA 90266
Come celebrate with us at The Sandpipers 27th Annual Holiday Homes Tour! This year's tour will showcase four distinctive homes in the South Bay. Each home is magnificently decorated and transformed for the holidays. In addition, the Sandpipers Holiday Market featuring local artisans and restaurants provide a unique shopping and dining experience. The Holiday Homes Tour is a popular event in the community that annually attracts over 2,000 patrons and garners tremendous support from numerous local businesses and community partners.
https://www.eventbrite.com/e/sandpipers-27th-annual-holiday-home-tour-tickets-77587607623
---
Dueling Pianos Holiday Sing Along
December 19, 8PM-12AM
Saint Rocke, Pacific Coast Highway
Hermosa Beach, CA, USA
Scott Doyle & Tim Butterworth are bringing the best hits based on your request! Interactive, engaging, and even a bit raunchy at times, Blazing Dueling Pianos of California are a guaranteed fun time!
https://www.eventbrite.com/e/dueling-pianos-holiday-family-sing-along-tickets-52515306696
---
Marina del Rey Holiday Boat Parade and Fireworks
Dec 14, 3 – 5 PM
Marina del Rey Main Channel
13650 Mindanao Way viewing at Burton Chace Park
Marina del Rey, CA 90292
The evening starts with fireworks at 5:55pm for the 57th iteration of the Marina del Rey holiday tradition. Prepare to be awed as spectacularly-decorated boats light up the marina's main harbor.
Before the parade, families can enjoy Marina del Rey's free Snow Wonder event (from 12-6pm at Burton Chace Park), with real snow, sledding, arts & crafts, face painting, live DJ, food trucks, and more.
Best viewing is at the end of Burton Chace Park or at Fisherman's Village. Parking is available in county lots for this event.
---
South Bay Food Market (Holiday Edition)
December 7, 2019 at 11 AM – 4 PM
305 W Torrance Blvd, Carson, California
Bring your appetite & family out one last time Saturday Dec. 7th as we bare host to some of the best Local Foodie-Preneurs in the South Bay. FREE admission, Live Music and enough food options to satisfy your tummies. We got a variety of options for everyone!! Last one of the year so come on out!
https://www.facebook.com/events/305-w-torrance-blvd-carson-california/south-bay-food-market-holiday-edition/630489757484613/
---
"The Nutcracker": South Bay Ballet's Holiday Favorite
Sat, Dec 21, 2019, 2:00 PM – Sun, Dec 22, 2019, 2:00 PM PST
El Camino College Center for the Arts — Marsee Auditorium
16007 Crenshaw Blvd.
Torrance, CA 90506
This year marks the 16th anniversary of South Bay Ballet's production of "The Nutcracker" — one of the best things to do in the Southland for the holidays! This world-class Christmas tradition at Marsee Auditorium is perfect for the entire family. Grandmother Clara tells the story of a young girl on Christmas Eve, whose dream of becoming a ballerina takes her on exciting adventures with her Nutcracker Prince meeting many enchanting characters in the land of ice and snow and the kingdom of the sweets.
https://www.eventbrite.com/e/south-bay-ballets-the-nutcracker-tickets-72379187097
---
The California Great Santa Stroll
Dec 14, 2019, Sat
10:00am to 12:00pm
Hermosa Beach Pier
Hermosa Avenue
Hermosa Beach, CA 90254
Hermosa Beach Pier hosts the Great Santa Stroll as part of a world competition for the most Santas gathered in one location. Families (and their pets!) are invited to dress up as Santa Claus for mass photo ops. The admission price includes a five-piece Santa suit.
The event raises funds for all the programs and activities of Mychal's Learning Place in Hawthorne.
https://mommypoppins.com/los-angeles-kids/event/outdoor/the-california-great-santa-stroll