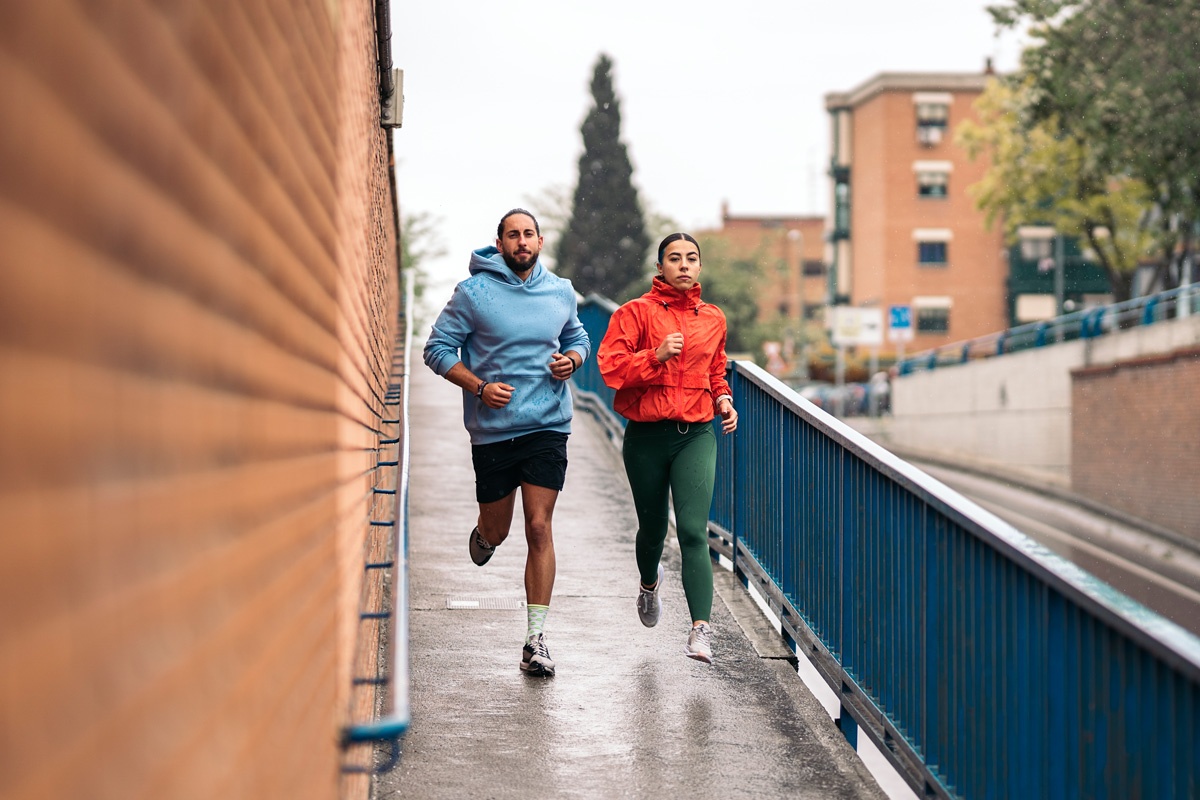 Due to the temperature dipping, many of us have moved our workouts from the gym to the great outdoors. And while exercising in nature has its benefits, it's important to take some extra precautions when doing so in winter weather. Here are a few safety tips to keep in mind next time you hit the streets or trails for a winter workout.
Layer up! Wearing multiple layers of clothing will help you stay warm while working up a sweat.
Layers are like the gift that keeps on giving – with each additional item of clothing, you get more warmth and protection! Whether it's getting cold out or you want to make sure your body stays warm while you exercise, layering up can be the perfect solution. Works for all kinds of weather! Just remember, the key to success lies in picking the right layers – starting from a lightweight foundation such as a t-shirt or leggings that will help wick away moisture. Then add your hoodie, vest, and anything else needed. Not only will you stay warm and cozy outdoors but also make a brilliant fashion statement indoors! Layer away!
Don't forget the sunscreen, even in winter! The sun's rays can still damage your skin, even when it's cold out.
Don't let the winter chill fool you! Even when the temperature drops and you're draped in thick layers and scarves, your skin needs protection from the sun. Especially in sunny California. That's right – sunscreen isn't just for summer fun! Sun exposure with no protection can lead to aging and skin cancer, so it's always important to lather on some SPF during chilly months as well. Don't worry – you don't have to look greasy in a bulky sweater: many brands provide lightweight and unscented options that can keep your skin healthy without ruining your style. So remember: even in frosty winter days, never forget to grab some sunscreen before jingling away!
Invest in a good pair of running shoes with traction to avoid slipping on wet or icy sidewalks or trails.
Wanna take a jog but don't want to take a somersault halfway through? Investing in a good pair of running shoes with traction is key! The grips on the bottom of well-designed running shoes help you avoid slipping on wet sidewalks or trails – saving your dignity, as well as your noggin. And don't worry about having to sacrifice any of your fitness goals for safety; there are absolutely plenty of options out there that offer great traction and style. So go ahead, step up your style and keep those feet firmly planted on the ground.
If possible, run or walk during daylight hours to be more visible to cars and other people. If you're going out in the evening, wear bright reflective clothing.
It's all too common to hear news of joggers or cyclists being hit by inattentive drivers of cars or bikes. With this risk in mind, it really pays to be smart about when and how you exercise outdoors. If you're able to, run, walk or cycle during daylight hours to maximize your visibility – that way, a driver won't suddenly come around the corner without seeing you. However, if you find yourself out at night, do your best to make yourself as visible as possible with bright reflective clothing! That way even the most oblivious drivers can spot you from miles away.
Let someone know where you're going before you head out – that way, if something happens, they'll know where to find you.
Letting someone know where you're going before you head out is a no-brainer. Not only will it give them peace of mind to know that you're safe, but if anything should happen while you're gone, they'll be one step ahead of the game. Plus, there's the added bonus that they won't have to worry about calling 911 with no idea of your whereabouts! That's why it's so important to make sure your friend or family member knows where you're headed before you head out – even if it seems like too much work when you're getting ready for a spontaneous night out!
Carry a phone with you in case of an emergency
With more of us venturing outside for errands and mild physical activities, it's a great idea to carry your phone with you in case of an emergency. Not only can you call someone for help in the event of an accident, but having a mobile handy allows you to use helpful apps such as FindMyPhone, which can easily pinpoint your location if you find yourself in a bind. Being prepared might not sound super exciting – but I guarantee that if it ever comes down to using these features, you'll be glad they were there!
While running or walking in the winter may seem intimidating, taking a few extra steps of preparation can go a long way. Between layering up with clothing, investing in good quality shoes and accessories, using sunscreen and staying visible and safe, you'll be ready for those winter outdoor fitness goals. Don't forget to let someone know where you are going – after all, knowledge is half the battle. So prepare for what winter throws at you – grab your coat and running shoes, and get out there!