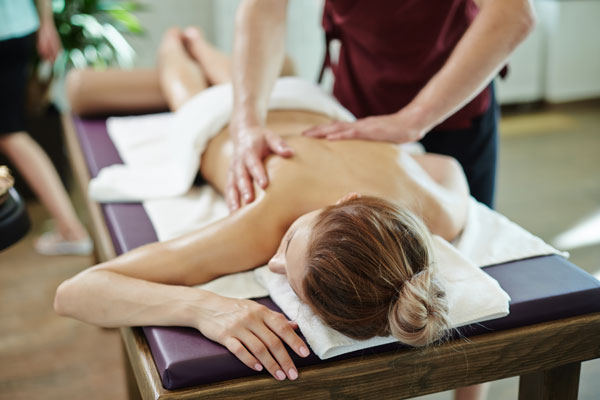 Massages are a great way to relax and show yourself a little self-care. However, many first-time clients may feel some anxiousness before their first appointment. How will it be? What should I expect? What will I wear? Well, no worries! I can put your mind at ease and answer those questions. Don't worry about feeling awkward, they're very common questions that us massage therapists don't mind answering.
What should I expect?
No need to fret. A great massage therapist will help put you at ease. If it's your first appointment, arrive a few minutes earlier to fill out your paperwork. Therapists typically ask what your problem areas are, so we know what to work on. Massage should be catered to each client's needs, so it's important to be thorough and list your issues. We can't fix what we aren't aware of. Massage therapists have a wide range of skills and pressure levels, so at any time during your massage you feel discomfort, please let us know. That way, we can adjust what we're doing to better fit your needs.
What should I wear?
I get this question a lot, so you aren't alone. I always tell my clients to wear what they're comfortable with, but if you want some direction, I can give you some examples. Because I'm located in Hermosa Beach, I get a good amount of athletes and volleyball players that come in with their board shorts or bathing suits on (hopefully they brush that sand off first. Lol). You can also wear your regular clothing and then undress to get your massage in your underwear. If you prefer to be more covered up, some people wear their gym attire. Men in their gym/basketball shorts and women will rock a sports bra and shorts. Prefer to don your birthday suit? No problem. You'll be covered by a sheet, so your massage therapist won't see anything you don't want us to see. We want you to be comfortable, so do what you feel is best for you.
Will massage oils leave me too greasy after?
While the use of massage oils is very important, your therapist will ensure to wipe off any excess at the conclusion of your massage. We take precautions because we want to make sure you're not an oily mess afterward. If you have long hair, you can tie it up or use a clip to ensure it doesn't get in the way during your massage. While we're on the topic, please let us know if you have any allergies or if there are any scents you don't like.
Have another question you'd like to ask? Feel free to ask me before your next session. I'd be happy to help!